-->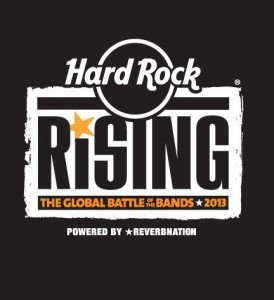 Hard Rock Rising is a battle of the bands competition and they are looking for the next big band . The worldwide competition is coming to Edinburgh at Hard Rock Cafe in the city's George Street they are looking for bands/artists from all over Scotland to take part and new talent can win music equipment valued at  around £6,000 as well as shoot a music video and embark on a world  tour.
Any artist interested can register on the Edinburgh Hard Rock Cafe  Facebook page, where fans will decide who can move on to the live performance rounds. Registration ends January  21. Once the favourites have been selected they will perform at The Hard Rock Cafe in front of a panel of judges at the venue who will then decide who wins and will then be representing Scotland and be up against the winners from all the other Hard Rock Cafe's participating throughout the world. The winners will then be narrowed down to a Top 25 and a panel of  judges will decide the overall winner.
More than 12,000 bands entered Hard Rock Rising and nearly one million votes  were cast by fans around the globe in 2012 with the Edinburgh event being won by local group The Asps.
The overall winner of the competition will play a world tour in cities including Sydney, Tokyo, Hong Kong,  London, Chicago and Honolulu, arranged by Hard Rock International, as well as  record an album with Hard Rock Records.
Entries must be received by 21st January 2013.
For more information or indeed to enter please follow the links below:
https://www.facebook.com/thomas.carlin.5/posts/575346339146164?comment_id=7066391&ref=notif&notif_t=share_reply#!/hardrockcafeedinburgh?fref=ts
or
https://www.facebook.com/thomas.carlin.5/posts/575346339146164?comment_id=7066391&ref=notif&notif_t=share_reply#!/hardrockcafeedinburgh/app_205164529573076
May The Best Band Win!
Glasgow based rock band Sixth Avenue Traffic are headlining a big gig on Christmas Eve at King Tut's Wah Wah Hut in the city.
Chris Thompson (Vocals), Chris Gould (Guitars and Vocals), Kirsten Stevenson (Bass) and Jordon Lang (Drums) are finishing off a huge year for the band, from playing Hard Rock Rising Battle of the Bands in Edinburgh back in March to releasing their debut EP Whisper, Smile and Wave to a packed house at the Classic Grand. Playing a major gig at King Tut's 2012 rounds off a busy and successful year for this great band.
Here Barry Dickson interviewed them about the past year, Christmas Eve and what 2013 will bring for the band and their ever growing fan base.
Sixth Avenue Traffic Interview by Basher1969 on Mixcloud
To find out more about the band go to:
www.facebook.com/sixthavenuetraffic
An event to increase the awareness of Huntington's Disease (HD) will take place this month at Firhill Stadium, the home of Partick Thistle F.C, in the Alan Rough Suite.
Huntington's Disease is a condition described as "a neurodegenerative genetic disorder that affects muscle coordination and leads to cognitive decline and psychiatric problems. It typically becomes noticeable in mid-adult life."
The event will take place on Friday 30th November 8pm – midnight, organised by Annie MacKenzie.
It is billed as "Rock Around The Christmas Tree For HD Awareness" and will feature some of the best up and coming musical artists from Scotland, including Sixth Avenue Traffic, The Cosmanauts, Honeybadger and Ded Rabbit. There is also a buffet and an auction to raise funds.
Annie MacKenzie explains prejudice against those with Huntington's Disease due to misunderstandings can be very hurtful to sufferers.
She said: "Most sufferers stop going out due to being accused of being drunk which is very hurtful for them, our event's are now giving them a space to feel part of their communities again, they all know we find a safe environment, friendly people and we are all together for HD awareness, that empowers people who suffer from HD to change their own attitude towards their ways of coping, helps their families feel less stressed and we all know music is a good healer for anyone who suffers from high levels of stress."
Annie has previously organised many other fundraisers to support sufferers and families of sufferers of HD.
Commending those who help to create the event, she continued: "We always thank all the bands who play at our event over and over again for their kind free contribution not only has band members, but they guide us through the process of planning a live music event and of course our wonderful team of volunteers with who we all share one thing in common: we are all from HD families, we all know the impact HD has had on our lives and we all push to make huge changes so the next generation do not have the same amount of upset and stress as most of us have to cope with on a daily basis.
"There is also a CD called Carry On which is a compilation of 20 tracks that have all been donated (play-list to be released just before the 30/11/12) by 20 of the bands who have played at our past HD awareness live music event. The track Carry On was written by a Glasgow based band called The Coffins (who are also appearing at the fundraiser). The lead singer attended our last gig which we held at the Woodstock music club in Dunfermline, he asked me why the need to be HD aware and by the time I finished telling him it had such a huge impact on him that he went home and wrote the song."
Tickets for the event can be purchased for £8.00 in advance  by calling or texting 07706080367  or at the venue on the night for £10.00.
For more information go to: http://www.liveforlifescotland.webs.com/
by Mark Mckinlay
How long have you been making music together and how did the band come together ?
The band started in September 2009 after a couple of chance meetings. Laura was meant to be going to my 18th with Jamie (our original keys player) who I had met on a few nights out. I had written a few songs and needed a singer. I also had a microkorg and needed a keys player. Not very rock and roll! Would have been better if fate had conspired and we all randomly during a cocaine orgy backstage at a Motley Crue gig.
We had to stop for about a year as our bassist joined the navy and our keys player went to Leeds for uni. Again, not very rock n' roll, it was really hard to refrain from making up that our bassist died in a tragic, twister accident after smacking up. We are back now though and that is the main thing.
How would you describe your sound  and what other artists influence the band ?
I've always tried to write very melodic songs, I'll come up with a hook and then work around that. The idea is to get the melodies stuck in your head. This is probably influenced through listening to the Beatles. We are all massive Beatles geeks. I don't think there has been a band, before or since, that have even came close to the Fab Four.
Arctic Monkeys are also up there as a huge influence, especially lyrically. I like the way Alex Turner writes and performs words, mostly in their more recent output. They kind of roll out of his mouth effortlessly, whilst at the same time, sound emotive. It's not always about the meaning, but the way the words sound and fit rhythmically around the song. I try to keep that in mind when writing and not get too bogged down in the subject matter. It's good to have a bit of mystery there.
Other bands we like, Late of the Pier, Franz Ferdinand, Mystery Jets, the Cure, David Bowie, the Yeah Yeah Yeahs and Echo and the Bunnymen. Big into dance music as well, the Prodigy being a favourite. This gives our sound a rhythmic quality. The new line-up has definitely brought the best out of that. The parts they are coming up with work perfectly. Basically, we want people to dance and our sound is defined by that.
You've got quite a few live dates coming up, are you excited to be taking your music around Scotland ?
And you're sharing a bill with Hot Chip in April, looking forward to it ?
Yeah, definitely, very excited. The response we have had so far has been fantastic. The comeback gig at Flat 0/1 was mental. Two folk in A&E by the end of the night. We do love recording and getting involved in the production side of things, but the best part by far is playing live.
There are a few great gigs coming up in the near future. Playing with Tango and the Attic will be class as we have been following them for a while now. Hot Chip are obviously the highlight though. Fantastic band. Our friend Keir who shot and directed our new music videos will also be filming so that has the potential to be another raj gig.
How did you find recording your Rush And Glamour EP ?
It was fun yeah, really laid back. No-one knew we were going to be releasing anything. We had a rough date in mind for when we wanted to put it out there but there wasn't any pressure to have them finished so we could take our time. It was a similar situation to the first time around. I had these songs lying about doing nothing and decided it would be good to get a new line up sorted. We approached my mate Kev Harper from Little Eskimos and he was right up for getting the tracks down. Was a fantastic decision as he's a talented bastert'. Think it shows in the E.P how capable he is as a producer. At the heart of it though, there are three great songs on that E.P. that we are really proud of.
Plans for a full album in the pipeline ?
Not at the moment. We want to get to a place where it would be worthwhile releasing one. It seems to be a death sentence for a lot of up-coming bands. That tricky debut, independent album. We are recording our follow up E.P. very soon though. We have the tracks written, just need to set a date for recording. It's a lot brighter than 'Rush and Glamour'. We have been calling it our 'Summer E.P.' Quite happy to keep recording E.P.'s regularly. It keeps the buzz going and showcases our stuff on an affordable format.
Can our readers expect to see you at any festivals over the summer ?
We are working on a few things at the moment, but it is quite hush hush. Hopefully we will have a BIG announcement in the near future though, so keep yer eyes peeled!
Where do you hope to be in 12 months time ?
Going right for the charts and grabbing it by the throat, knocking Ed Sheeran off of his smug, James Blunt perch and simultaneously sticking the boot into the bland, boring club 'culture' this generation has adopted. Think pennies, you get pennies.
2nd April – Stereo, Glasgow

7th April, 20 Rocks, Falkirk

13th April – Chambre69, Glasgow with Hot Chip (DJ SET)

27th April – 20Rocks, Falkirk
https://twitter.com/#!/twostripe
http://www.facebook.com/pages/Two-Stripe-official-page/396240315499
Glasgow's 'The Captain's Rest' plays host to the tour opening gig from Beth Jeans Houghton and her band The Hooves of Destiny, this Friday, 17 February 2012. Doors open at 8pm.
Described by The Guardian as "Vashti Bunyan crossed with Nico and Laura Marling", Beth is celebrating her new album 'Yours Truly, Cellophane Nose' touring around the UK and beyond.
'Yours Truly, Cellophone Nose 'was released on 6th February through Mute Recordings and if you're interested in hearing more from Beth then check this out:-
Furthermore, from the leafy bohemian suburbs of Birmingham, Goodnight Lenin, have been confirmed as main support for the entire tour!  GL themselves warming up for a return Summer set at Green Man Festival, Brecon Beacons, after their return from Germany.
Goodnight Lenin musicians, John Fell and company, are involved with the highly successful year on year sell-out successes with The 'Mostly Jazz & Moseley Folk Festivals' in Birmingham. This year sees a bumper hybrid event stretching over the early June Jubilee/Bank Holiday set in the verdant shades of Warwickshire's Umberslade Farm, Tanworth-In-Arden. Nick Drake fans will know the place only too well. Book early now to avoid disappointment. Tickets on sale this week.

Sweet Tooth Bird

Beth Jeans Houghton | Myspace Video