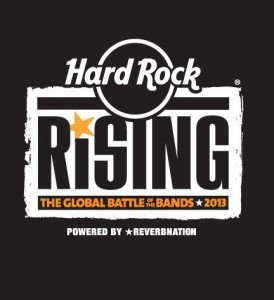 Hard Rock Rising is a battle of the bands competition and they are looking for the next big band . The worldwide competition is coming to Edinburgh at Hard Rock Cafe in the city's George Street they are looking for bands/artists from all over Scotland to take part and new talent can win music equipment valued at  around £6,000 as well as shoot a music video and embark on a world  tour.
Any artist interested can register on the Edinburgh Hard Rock Cafe  Facebook page, where fans will decide who can move on to the live performance rounds. Registration ends January  21. Once the favourites have been selected they will perform at The Hard Rock Cafe in front of a panel of judges at the venue who will then decide who wins and will then be representing Scotland and be up against the winners from all the other Hard Rock Cafe's participating throughout the world. The winners will then be narrowed down to a Top 25 and a panel of  judges will decide the overall winner.
More than 12,000 bands entered Hard Rock Rising and nearly one million votes  were cast by fans around the globe in 2012 with the Edinburgh event being won by local group The Asps.
The overall winner of the competition will play a world tour in cities including Sydney, Tokyo, Hong Kong,  London, Chicago and Honolulu, arranged by Hard Rock International, as well as  record an album with Hard Rock Records.
Entries must be received by 21st January 2013.
For more information or indeed to enter please follow the links below:
https://www.facebook.com/thomas.carlin.5/posts/575346339146164?comment_id=7066391&ref=notif&notif_t=share_reply#!/hardrockcafeedinburgh?fref=ts
or
https://www.facebook.com/thomas.carlin.5/posts/575346339146164?comment_id=7066391&ref=notif&notif_t=share_reply#!/hardrockcafeedinburgh/app_205164529573076
May The Best Band Win!
Glasgow based rock band Sixth Avenue Traffic are headlining a big gig on Christmas Eve at King Tut's Wah Wah Hut in the city.
Chris Thompson (Vocals), Chris Gould (Guitars and Vocals), Kirsten Stevenson (Bass) and Jordon Lang (Drums) are finishing off a huge year for the band, from playing Hard Rock Rising Battle of the Bands in Edinburgh back in March to releasing their debut EP Whisper, Smile and Wave to a packed house at the Classic Grand. Playing a major gig at King Tut's 2012 rounds off a busy and successful year for this great band.
Here Barry Dickson interviewed them about the past year, Christmas Eve and what 2013 will bring for the band and their ever growing fan base.
Sixth Avenue Traffic Interview by Basher1969 on Mixcloud
To find out more about the band go to:
www.facebook.com/sixthavenuetraffic
We are willing to bet you that you will come out of the cinema after watching this film and head straight for the nearest music store, or download the music immediately from iTunes. The film, Searching for Sugar Man, is a documentary, but having already won the Special Jury Prize and the World Cinema Audience Award for Documentary at this year's Sundance Festival, and was nominated for the Grand Jury Prize, as well as winning second place at the Tribeca Festival, you know that it has to be special. And it is.
The story is true of course, but it is one which is barely believable, even when the film draws to a close. (And you will not want it to end anyway). Sixto Rodriguez, a singer songwriter of Mexican descent, lived in Detroit and sang in less than fabulous bars there, including one called The Sewer. Two record producers, Dennis Coffey and Mike Theodore, signed him to make his first album called Cold Fact in 1970 and a second album Coming from Reality followed which was produced by famed music producer, Steve Rowland. But neither of these amazing offerings became a hit in the US, despite the fact that all three of the record producers worked with many huge stars, both before and after working with Rodriguez. It fell to the South African market to buy his records, and he became a musical legend there. His songs, in the words of one person interviewed in the film, were 'the soundtrack of our youth.' This was the South Africa of apartheid, of oppression. His songs appeared to speak directly to the people at the heart of that struggle, and they simply loved him.
The music is sort of Bob Dylan but better. It is quite mellow, but with enough lyrical twists and turns to engage you. And in our view his music is better than Dylan in many respects, principally that you can understand what he is singing.
In the opening sequence of the film you might think that you are on the Pacific Highway in California, but this is not possible as the car is driving on the left hand side. It is only when you are told that it is Cape Town that you realise the film is starting on a different continent with staggeringly beautiful scenery. This proves to be a world away from the streets of Detroit.
There are some unanswered questions, including the destination of money earned from the sale of the records, but we think it is just as well that those areas were left unexplored, at least for the time being. The intrigue and mystery might easily have been compromised, and a great film spoiled. But the  team behind it knew what they were doing.
It is the work of Director, Malik Bendjelloul. Based in Stockholm, Malik Bendjelloul has been directing documentaries for twelve years, primarily based on musicians. In 2001, Bendjelloul directed the first ever documentary about German electronic pioneers Kraftwerk. He has also made a documentary series about the history of heavy metal as well as some single documentaries, collaborating with such iconic artists as Björk, Sting, Elton John, Rod Stewart, Madonna, Mariah Carey, U2 and Kylie Minogue. Last autumn Bendjelloul directed a filmed concert with Prince.
Bendjelloul has also worked as director and creative producer for Swedish Television's international cultural weekly show Kobra, where he made short documentaries covering a wide range of stories. Among the subjects were the First Earth Battalion – the American army division who tried to teach their soldiers to walk through walls; and a profile on Alfred Merhan, a man who has been living in Charles de Gaulle airport for 18 years and who became the inspiration for Steven Spielberg's THE TERMINAL. Other subjects have included the controversial story of British pop band The KLF burning a million pounds, and a film exploring the rumours surrounding Paul McCartney's death.
He had worked on Sugar Man for a long time before meeting up with the Producers Simon Chinn and John Battsek who helped complete the film. Bendejelloul said:- "In 2006, after five years making TV documentaries in Sweden, I spent six months travelling around Africa and South America looking for good stories. In Cape Town I met Stephen "Sugar" Segerman, who told me about Rodriguez. I was completely speechless – I hadn't heard a better story in my life. This was five years ago and I have been working on this film more or less every day since then."
The producer Simon Chinn has already won Oscars and other plaudits and you will possibly know him for his most recent films Project Nim and Man on Wire (the latter did win the Grand Jury Prize at Sundance). It became Rotten Tomatoes best-reviewed film of all time.
In 2005, Chinn established his production company, Red Box Films, to produce MAN ON WIRE (taking inspiration from Philippe Petit, who kept his ideas for future projects, including his high wire walk between the Twin Towers, in a red box under his bed) and it currently has a slate of projects – including feature documentaries, feature films and television dramas – at various stages of production and development.
We loved it, and we are struggling to tell you about it in too much detail since we really do not want to spoil it for you. It is the story of Rodriguez, an American singer, his music and his life. Maybe that is all you ought to know before you storm the doors of your nearest cinema from 27 July 2012 when it is available on general release. Then sit back and prepare to be amazed by the story of a singer songwriter who was bigger than Elvis in South Africa.
Searching for Sugar Man opens in the UK today 27 July 2012
Photo © StudioCanal
by Mark Mckinlay
How long have you been making music together and how did the band come together ?
The band started in September 2009 after a couple of chance meetings. Laura was meant to be going to my 18th with Jamie (our original keys player) who I had met on a few nights out. I had written a few songs and needed a singer. I also had a microkorg and needed a keys player. Not very rock and roll! Would have been better if fate had conspired and we all randomly during a cocaine orgy backstage at a Motley Crue gig.
We had to stop for about a year as our bassist joined the navy and our keys player went to Leeds for uni. Again, not very rock n' roll, it was really hard to refrain from making up that our bassist died in a tragic, twister accident after smacking up. We are back now though and that is the main thing.
How would you describe your sound  and what other artists influence the band ?
I've always tried to write very melodic songs, I'll come up with a hook and then work around that. The idea is to get the melodies stuck in your head. This is probably influenced through listening to the Beatles. We are all massive Beatles geeks. I don't think there has been a band, before or since, that have even came close to the Fab Four.
Arctic Monkeys are also up there as a huge influence, especially lyrically. I like the way Alex Turner writes and performs words, mostly in their more recent output. They kind of roll out of his mouth effortlessly, whilst at the same time, sound emotive. It's not always about the meaning, but the way the words sound and fit rhythmically around the song. I try to keep that in mind when writing and not get too bogged down in the subject matter. It's good to have a bit of mystery there.
Other bands we like, Late of the Pier, Franz Ferdinand, Mystery Jets, the Cure, David Bowie, the Yeah Yeah Yeahs and Echo and the Bunnymen. Big into dance music as well, the Prodigy being a favourite. This gives our sound a rhythmic quality. The new line-up has definitely brought the best out of that. The parts they are coming up with work perfectly. Basically, we want people to dance and our sound is defined by that.
You've got quite a few live dates coming up, are you excited to be taking your music around Scotland ?
And you're sharing a bill with Hot Chip in April, looking forward to it ?
Yeah, definitely, very excited. The response we have had so far has been fantastic. The comeback gig at Flat 0/1 was mental. Two folk in A&E by the end of the night. We do love recording and getting involved in the production side of things, but the best part by far is playing live.
There are a few great gigs coming up in the near future. Playing with Tango and the Attic will be class as we have been following them for a while now. Hot Chip are obviously the highlight though. Fantastic band. Our friend Keir who shot and directed our new music videos will also be filming so that has the potential to be another raj gig.
How did you find recording your Rush And Glamour EP ?
It was fun yeah, really laid back. No-one knew we were going to be releasing anything. We had a rough date in mind for when we wanted to put it out there but there wasn't any pressure to have them finished so we could take our time. It was a similar situation to the first time around. I had these songs lying about doing nothing and decided it would be good to get a new line up sorted. We approached my mate Kev Harper from Little Eskimos and he was right up for getting the tracks down. Was a fantastic decision as he's a talented bastert'. Think it shows in the E.P how capable he is as a producer. At the heart of it though, there are three great songs on that E.P. that we are really proud of.
Plans for a full album in the pipeline ?
Not at the moment. We want to get to a place where it would be worthwhile releasing one. It seems to be a death sentence for a lot of up-coming bands. That tricky debut, independent album. We are recording our follow up E.P. very soon though. We have the tracks written, just need to set a date for recording. It's a lot brighter than 'Rush and Glamour'. We have been calling it our 'Summer E.P.' Quite happy to keep recording E.P.'s regularly. It keeps the buzz going and showcases our stuff on an affordable format.
Can our readers expect to see you at any festivals over the summer ?
We are working on a few things at the moment, but it is quite hush hush. Hopefully we will have a BIG announcement in the near future though, so keep yer eyes peeled!
Where do you hope to be in 12 months time ?
Going right for the charts and grabbing it by the throat, knocking Ed Sheeran off of his smug, James Blunt perch and simultaneously sticking the boot into the bland, boring club 'culture' this generation has adopted. Think pennies, you get pennies.
2nd April – Stereo, Glasgow

7th April, 20 Rocks, Falkirk

13th April – Chambre69, Glasgow with Hot Chip (DJ SET)

27th April – 20Rocks, Falkirk
https://twitter.com/#!/twostripe
http://www.facebook.com/pages/Two-Stripe-official-page/396240315499