GFF 2014: The Grand Budapest Hotel (Wes Anderson, 2014)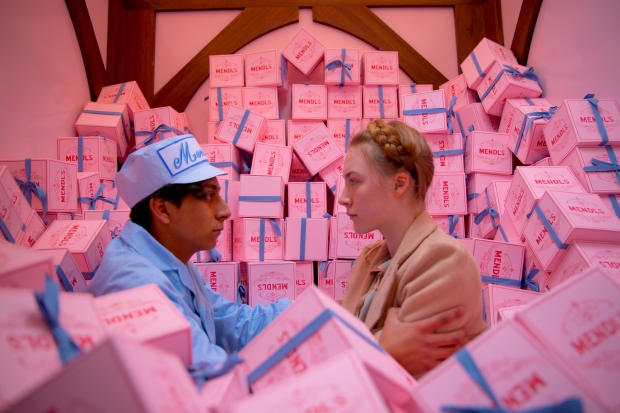 From the off, Wes Anderson's The Grand Budapest Hotel resembles a stunningly crafted watercolour postcard, plucked lovingly from the depths of your grandmother's relic box. Its numerous characters fit almost like paper dolls on to the lustrous landscapes.
The story is this: in between the two world wars of the 20th century, M. Gustave H. (played by Ralph Fiennes) is the faithful concierge of the Grand Budapest Hotel, a finely decorated establishment perched on a mountain in Eastern Europe. Charming and a little camp, Gustave has managed to make an aged Duchess (Tilda Swinton) fall madly in love with him. When she dies, and the will states that Gustave inherits an expensive painting, he is blamed for her murder and imprisoned. With the help of his trusted lobby boy Zero (Tony Revolori), Gustave must escape from prison and prove his innocence.
Anderson deserves a firm pat on the back for this one. Whilst recognisable faces appear on screen, scene after scene, he manages to hone the film in with an expertly funny script and some gorgeous cinematography. The cast do a wonderful job, turning their enthusiasm up to one thousand and giving it their absolute all in this gratuitous, over the top picture that's great fun to watch. Particular credit must go to the costume and set design teams too. Not only is it funny, but it's dazzling and alluring on the eye.
The huge cast that festoon the posters in your local cinema, and the honourable Wes Anderson? Both deserve a rapturous round of applause for this. Lurid, funny and whip-smart, The Grand Budapest Hotel is an absolute cinematic riot in all the right ways.
The Grand Budapest Hotel opened the Glasgow Film Festival 2014. It has its UK nationwide release on 7th March